---
WARBIRDS RESOURCE GROUP
>
BRITISH AVIATION
>
PREVIOUS PAGE
---
WESTLAND WHIRLWIND
Variants
P.9 prototype
Single-seat twin-engine fighter aircraft prototype. Two built (L6844 and L6845), can be distinguished from later production samples by the mudguards above the wheels (Though the first production sample (P6966) had them as well), the exhaust system and the so-called 'acorn' on the joint between fin and rudder. L6844 had a distinctive downward kink to the front of its pitot tube, atop the tail not seen again in following models. L6844's colour was dark grey and not red, as is often stated. L6844 had opposite rotation engines, L6845 had the same rotation engines as per production machines.
Whirlwind I
Single-seat twin-engine fighter aircraft, 400 ordered, 2 prototype & 114 production aircraft, total aircraft built 116
Whirlwind II
Single-seat twin-engine fighter-bomber aircraft, fitted with underwing bomb racks, were nicknamed "Whirlibombers". At least 67 conversions made from the original Mk I fighter.
Experimental variants
A Mk I Whirlwind was tested as a night fighter in 1940 with No. 25 Squadron. The first prototype was armed with an experimental twelve 0.303 machine guns, and another a single 37 mm cannon.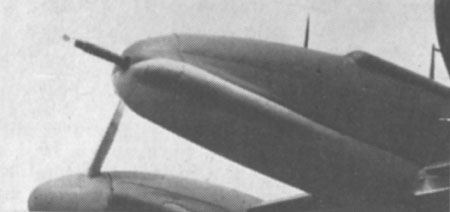 Experimental nose with 37mm cannon.
---
Sources:
Gunston, Bill -
The Encyclodepia of the Worlds Combat aircraft
, 1976, Chartwell Books, Inc., New York
Green, William -
War Planes Of The Second World War - Fighters - Vol. 2
, 1961, Hanover House, New York
Wikipedia
---
WARBIRDS RESOURCE GROUP
>
BRITISH AVIATION
>
PREVIOUS PAGE
---