---
BRITISH AVIATION RESOURCE CENTER
>
EXPERIMENTAL/PROTOTYPES
>
SEAGULL
>
PREVIOUS PAGE
---
SUPERMARINE SEAGULL
Development
---
In October 1940, the British Air Ministry issued Specification S.12/40 to Supermarine and Fairey for a catapult-launched, amphibian, reconnaissance and spotter aircraft to replace the Supermarine Walrus and Supermarine Sea Otter. An order for three prototypes of Supermarine's aircraft was issued in March 1943.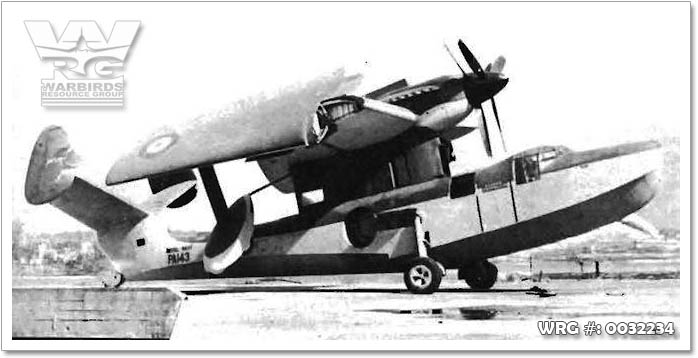 [Source: Public Domain]

There was an interruption in design due to the necessity of moving the Supermarine design office, after the bombing of the facility at Woolston. Further delays were caused by the extensive wind tunnel testing that was needed and the change from a Rolls-Royce Merlin to the more powerful Rolls-Royce Griffon. Also, the design specification was changed in 1944 to a new requirement, S.14/44 (later S.14/44/2) - the role of the aircraft being changed from ship-based reconnaissance and gunnery spotting to land-based Air-sea rescue. This change removed the four-gun turret the design had originally featured.
The first prototype - Seagull serial PA143 - first took off on July 14, 1948 from Southampton Water, flown by test pilot Mike Lithgow. The second aircraft - PA147 - flew in September 1949, and was used for carrier trials on HMS Ark Royal later in that year, during which it demonstrated the capability to carry five passengers. Experiments were also carried out with rocket assisted take-offs.
By the early 1950s, helicopters were taking over the air-sea rescue role. In 1952, the two completed prototypes and the partially built third aircraft, PA152, were scrapped.
---
Sources:
Gunston, Bill -
The Encyclodepia of the Worlds Combat aircraft
, 1976, Chartwell Books, Inc., NY
Wikipedia
---
BRITISH AVIATION RESOURCE CENTER
>
EXPERIMENTAL/PROTOTYPES
>
SEAGULL
>
PREVIOUS PAGE
---