---
BRITISH AVIATION RESOURCE CENTER
>
FIGHTERS
>
PREVIOUS PAGE
---
de HAVILLAND MOSQUITO
---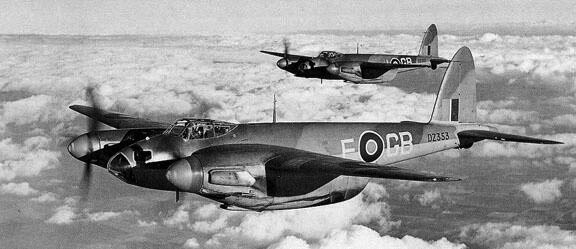 ---
Type: designed as high-speed day bomber, see variants for other uses.
Origin: de Havilland
Models: D.H. 98 Mk. I to 43
First Flight:
Prototype: November 25, 1940
F.II: May 15, 1941
T.III: June 1942
NF.XIII: August 1943
Service Delivery: N/A
Final Delivery:
T.III: 1949
Number Produced: 7,781


---

Engine:
Mks. II, III, IV and early VI
Model: Rolls-Royce Merlin 21
Type: 12-Cylinder air-cooled Vee
Number: Two Horsepower: 1,230 hp

Late FB.VI
Model: Rolls-Royce Merlin 25
Type: 12-Cylinder air-cooled Vee
Number: Two Horsepower: 1,635 hp

Mk. IX
Model: Rolls-Royce Merlin 72
Type: 12-Cylinder air-cooled Vee
Number: Two Horsepower: 1,680 hp

Mk. XVI
Model: Rolls-Royce Merlin 72, 73, or 77
Type: 12-Cylinder air-cooled Vee
Number: Two Horsepower: 1,710 hp (73)

Mk. 30
Model: Rolls-Royce Merlin 76
Type: 12-Cylinder air-cooled Vee
Number: Two Horsepower: 1,710 hp

Mk. 33
Model: Rolls-Royce Merlin 25
Type: 12-Cylinder air-cooled Vee
Number: Two Horsepower: 1,640 hp

Mk. 34, 35, 36
Model: Rolls-Royce Merlin 113/114
Type: 12-Cylinder air-cooled Vee
Number: Two Horsepower: 1,690 hp

Many variants were equipped with Packard built Merlins.

Dimensions:
Wing span (except Mk. XV): 54 ft. 2 in. (16.5m)
Length:
Most Common: 40 ft. 6 in. (12.34m)
Bombers: 40 ft. 9.5 in.
Radar Equipped fighters: 41 ft. 9 in.
Mk. 34-38: 41 ft. 9 in.
Mk. 39: 43 ft. 4 in.
Height (Typical): 15 ft. 3.5 in. (4.66m)
Wing Surface Area: N/A

Weights:
Empty:
Mks. II-VI: about 14,100 lb.
Mks. VIII-30: about 15,200 lb.
Beyond Mk. 30: about 15,900-16,800 lb.
Loaded:
Mks. II & III: around 17,500 lb.
Mks. IV & VI: around 22,500 lb.
Later Night Fighters: around 20,500 lb.
HF.XV: 17,395 lb.
Mks. IX, XVI: Typically 25,000 lb. (11,340 kg.)
Beyond Mk. 30: Typically 25,000 lb. (11,340 kg.)

Performance:
Maximum Speed:
Early night fighters: 300 to 370 mph (595 km/h)
Mk. III, IV and VI: 380 mph
Mk. IX, XVI and 30: 410 mph (660 km/h)
Mk. 34 and 35: 425 mph
Initial Climb: N/A
Service Ceiling:
Low rated navalized versions: 30,000 ft. (9144m)
Typical: 34,500 ft. (10,520m)
High powered versions: 40,000 ft. (12120m)
Range:
Typical: 1,860 miles (2990 km)
Naval TF's: 1,260 miles
PR.34: 3,500 miles


---

Armament:
See variants listing.

Payload:
See variants listing.

---
Image Gallery:
---
Variants:
PR.I: Unarmed photo reconnaissance.

F.II: Night fighter. Pilot and observer sit side by side. Flat, bullet resistant windscreen, extended engine nacelles (standard for later versions). Armament consists of four 20mm Hispano cannon under cockpit with 300 rounds per gun and four .303 in. Brownings mounted in nose with 2000 rounds per gun. Subsequently fitted with A1 Mk IV or V Radar or Turbinlight searchlight.

T.III: Dual-Control trainer. Most produced after war's end.

B.IV: Unarmed bomber version. Internal bomb bay carrying four 500 lb. (227 kg.) bombs. Entered squadron service with 105 Squadron at Swanton Morley November 1941. First operational sortie on May 31, 1942 against Cologne. Some aircraft later fitted with bulged bomb bays for 4,000 lb. (1814 kg.) bomb.

FB.VI: Fighter-Bomber and Intruder (Day and Night). Same gun armament as F.II but also carried two 250 lb. (113 kg.) bombs in rear bay and two more on wings (eventually increased to 500 lb.). Alternatively, 50 or 100 gal. drop tanks, mines, depth charges or eight 60 lb. rockets could be fitted to wing stations. Some aircraft were fitted with AI radar. Total production: 2,584. This variant was the most numerous.

B.VII: Canadian built Mk. IV, used in North America only.

PR.VIII: Photo reconnaissance version of B.IV with supercharged Merlin 61.

Mk. IX: Significant redesign with two-stage supercharged Merlin engines, paddle type propellors, bulged bomb bay to accept a 4,000 lb (1814 kg.) bombs or additional fuel cell. New avionics were also installed (Rebecca, Boozer, Oboe or H2S Mk. VI).

NF.XII: Conversion of F.II fitted with thimble nose containing AI Mk. VIII centrimetric radar in place of Brownings.

NF.XIII: Similar to Mk. XII but built as new. Fitted with thimble or bull nose and same wing as Mk. VI for drop tanks or other stores.

NF.XV: High-Altitude fighter with extended wing span (59 ft.), pressurised cockpit, lightened structure, AI Mk. VIII radar in nose and four .303 brownings replacing 20mm cannon in belly pack. Built to engage Ju-86P high altitude raiders.

Mk. XVI: Equipped with supercharged Merlins, bulged bomb bay and a pressurised cockpit, the Mk. XVI was built as the PR.XVI and the B.XVI, with over 1,200 of the later being used for high altitude nuisance raids with 4,000 lb. bombs.

NF.XVII: Night fighter with AI Mk. X or SCR.720 radar. Some aircraft equipped with tail-looking scanner also. Four 20mm cannon with 500 rounds per gun.

FB.XVIII: Developed as a multi-role coastal command fighter. Equipped with a 57mm six-pounder Molins gun with 25 rounds, four Brownings, as well as eight 60 lb. rockets or bombs. Known as Tse-Tse fly for unknown reasons.

NF.XIX: A development of the Mk.XIII with AI.VIII or X or SCR.720 radar in bulged universal nose.

B.XX: Canadian built B.IV (USAAF designation F-8).

FB.21 to T.29: Canadian marks with Packard V-1650 (Merlin) engines. Not all put into production.

NF.30: Nightfighter with supercharged Merlins, paddle blade propellers, AI Mk. X and various sensing, spoofing or jamming avionic. Based on Mk. XIX.

PR.32: Extended span reconnaissance version with Merlin 113/114.

Mk. 33: First Royal Navy Sea Mosquito version, Equipped with power-folding wings, oleo main gearm four-blade propellers, arrester hook, four 20mm cannon, torpedo (or various bomb/rocket loads), American ASH radar and rocket JATO boost.

PR.34: Strategic reconnaissance version, with 113/114 engines, extra-bulged belly for 1,269 gal fuel (incl. 200 gal drop tanks) and pressurised cockpit.

NF.36: Post-war fighter, with 113/114 Merlins and AI Mk. X.

TF.37: Naval torpedo fighter, basically Mk. 33 with AI/ASV Mk. XIII radar.

NF.38: Final fighter versions, mainly exported. Equipped with AI Mk. IX radar and forward cockpit.

TT.39: Complete rebuild by General Aircraft as specialized target tug.

FB.40: Australian built Mk. VI along with PR.40.

PR.41: Australian built derivative of PR.IX and Mk. 40.

T.43: Australian trainer. All Australian versions had Packard engines.

---
Comments:
Originally concieved of as a unarmed daylight high-speed bomber that utilized non-strategic materials, primarily wood. The aircraft was almost never built since the Air Ministry showed almost no interest in the design and suggested that de Havilland use the production capacity to produce wings for exsisting bombers. de Havilland persisted and eventually was allowed to built the PR.1, since the Air Ministry thought reconnaissance would be the only suitable purpose. From this inauspicious start a legend was born. The Mosquito is one of the most famous twin-engined aircraft to come out of WWII and proved to be a thorn in the Luftwaffe's side almost from the beginning. Not until the Me 262 entered service did the Luftwaffe have an aircraft that could easily intercept the extremely fast Mosquito. Before then the type could for the most part range with impunity over German occupied territory and indeed over the heart of Germany itself. The German's even tried to make there own version with the design of the Ta 154 Moskito, a solid design that never saw service in significant numbers due to production problems.
The Moskito proved to be a succesful nightfighter but one of it's most inportant roles was as a counter-nightfighter. Nightfigher Mosquitos would patrol around the RAF's bomber streams and hunt the Luftwaffe nightfighters that proved so destructive. Once these Mosquitos entered service the Luftwaffe nightfighters no longer owned the night.
The Mosquito was produced in Britain, Canada and Australia and saw combat in all theaters of the war. Unfortunately the wooden construction of the aircraft left it vulnerable to rot in certain tropical areas but for the most part the type served admirably.

---
Sources:
Gunston, Bill -
The Encyclodepia of the Worlds Combat aircraft
, 1976, Chartwell Books, Inc., New York
Green, William -
War Planes Of The Second World War - Fighters - Vol. 2
, 1961, Hanover House, New York
---
BRITISH AVIATION RESOURCE CENTER
>
FIGHTERS
>
PREVIOUS PAGE
---