---
BRITISH AVIATION RESOURCE CENTER
>
FIGHTERS
>
PREVIOUS PAGE
---
GLOSTER GLADIATOR
---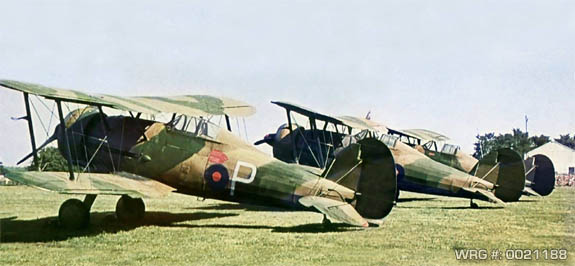 ---
Specifications
Type:
Gladiator: Single-Seat fighter
Sea Gladiator: Single-Seat carrier fighter
Origin: Gloster
Models: S.S. 37 Mk. I & II, Sea Gladiator
First Flight:
Prototype: March 10, 1936
Gladiator Mk. I: June 1936
Sea Gladiator: 1938
Final Delivery: April 1940
Number Produced:
Gladiators for RAF: 480
Sea Gladiators: 60
Gladiator for export: 216


---

Engine:
Gladiator Mk. I
Model: Bristol Mercury IX or IXS
Type: 9-Cylinder air cooled radial
Number: One Horsepower: 840 hp

Gladiator Mk. II
Model: Bristol Mercury VIIIA
Type: 9-Cylinder air cooled radial
Number: One Horsepower: 840 hp


---

Dimensions:
Wing span: 32 ft. 3 in. (9.85m)
Length: 27 ft. 5 in. (8.38m)
Height: 10 ft. 4 in. (3.17m)
Wing Surface Area: N/A


Weights:
Empty:
Gladiator: 3,450 lb. (1565 kg)
Sea Gladiator: 3,745 lb.
Loaded:
Gladiator: 4,750 lb. (2155 kg)
Sea Gladiator: 5,420 lb.

Performance:
Maximum Speed:
Gladiator: 253 mph (407 km/h)
Sea Gladiator: 253 mph (407 km/h)
Initial Climb: 2,300 ft/min (700 m/min)
Service Ceiling: 33,000 ft. (10,060m)
Range:
Gladiator: 440 miles (708 km)
Gladiator: 425 miles

Armament:
First 71 aircraft:
Two .303 in. Vickers in fuselage.
Two .303 in. Lewis guns under lower wings.

Subsequent aircraft:
All machine guns replaced with .303 in. Browning machine guns.
Ammunition: 600 rpg for fuselage guns, 400 rpg for wing guns.

---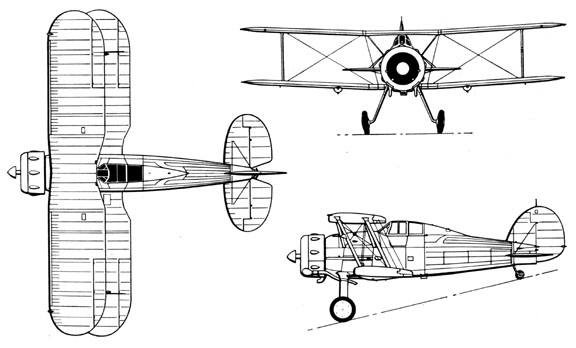 The Gladiator was designed in response to Air Ministry specification F.7/30 but after lengthy delays the Gladiator was put into production just in time to become obsolete. The type soldiered on for quite some time, providing fighter support for secondary theaters. Gladiators of the Auxillery Air Force intercepted the first bombing raid over England in September, 1939. Aircraft that survived the sinking of the
H.M.S. Glorious
operated from a frozen lake in Norway against the Luftwaffe and three Sea Gladiators helped defend Malta from the Regia Aeronautica from June 11, 1940.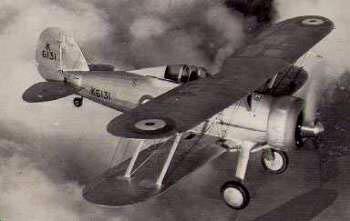 The Mark II incorporated desert filters, automatic mixture control and an electric starter powered by an internal battery. The Sea Gladiator was equipped with full carrier equipment.
---
Sources:
Gunston, Bill -
The Encyclodepia of the Worlds Combat aircraft
, 1976, Chartwell Books, Inc., New York
Green, William -
War Planes Of The Second World War - Fighters - Vol. 2
, 1961, Hanover House, New York
---
BRITISH AVIATION RESOURCE CENTER
>
FIGHTERS
>
PREVIOUS PAGE
---