---
BRITISH AVIATION RESOURCE CENTER
>
FIGHTERS
>
PREVIOUS PAGE
---
HAWKER FURY
---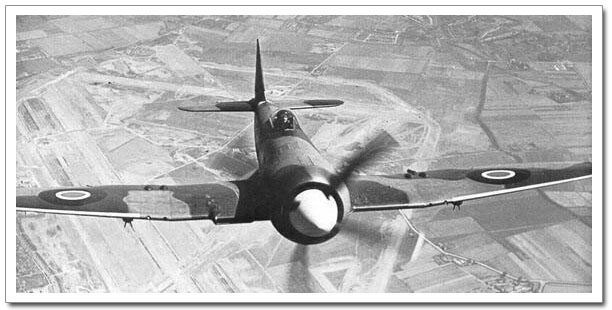 ---
Type: Single-Seat fighter-bomber, naval fighter-bomber, & two-seat trainer.
Origin: Hawker
Models: Fury I, FB.60, T.61, Sea Fury, FB.10, 11, 51 and T.20.
First Flight:
Prototype: September 1, 1944
Griffon-engined prototype: November 27, 1944
Sea Fury X: February 21, 1945
Service Delivery: N/A
Number Produced: 860


---

Engine:
Model: Bristol Centaurus 15
Type: 18-Cylinder two-row sleeve valve radial
Number: One Horsepower: 2,470 hp


Or

Model: Bristol Centaurus 18
Type: 18-Cylinder two-row sleeve valve radial
Number: One Horsepower: 2,550 hp


---

Dimensions:
Wing span: 38 ft. 4.75 in. (11.69m)
Length: 34 ft. 8 in. (10.56m)
Height: 15 ft. 10 in. (4.81m)
Wing Surface Area: N/A

Weights:
Empty:
Fury I: 8,879 lb. (4020 kg)
Sea Fury 11: 8,977 lb. (4090 kg)
Loaded:
Fury I: 12,114 lb. (5505 kg)
Sea Fury 11: 12,500 lb. (5669 kg)

Performance:
Maximum Speed:
Typical: 460 mph (740 km/h)
Trainers: 445 mph
Initial Climb: 4,320 ft/min (1320 m/min)
Service Ceiling: 36,000 ft. (11,000m)
Range (Internal Fuel): 760 miles (1223 km)


---

Armament:
Four 20mm Hispano Mk. V cannon in outer wings.
Except T.20 which only mounted two.

Payload:
2,000 lb. (907 kg.) of ordnance on wing racks.

---
Comments:
The design of the Fury was inspired by data gathered from a Fw 190 that was captured in June of 1942. The Fw 190 had had solved the cooling problem inherent in tighly cowled radial engines. The British had abandoned this line of development and focused on inline engines. With this problem solved the promise of high powered radial engines on lightweight aircraft was realized.
The prototypes flew with the Centaurus, Griffon and Sabre engines and after testing the Centaurus was chosen. Boulton Paul took over the design duties for the development of the Sea Fury.
The end of the war saw the RAF cancelling all of it's orders for the Fury though 65 were built for Egypt and Pakistan. The Sea Fury enjoyed a much more successful career with the Fleet Air Arm which recieved 615 aircraft. A further 245 examples were sold to Canada, The Netherlands, Australia, West Germany, Burma, Cuba and several other countries.
The Sea Fury was the standard fighter-bomber of the RN, RCN and RAN units in Korea (1951-53) and flew thousands of sorties in support of ground forces. The type also managed to shoot down several Mig-15's in aerial combat. Pakistan Furies remained in service until 1973, engaging in combat operations against India.

---
Sources:
Gunston, Bill -
The Encyclodepia of the Worlds Combat aircraft
, 1976, Chartwell Books, Inc., New York
Green, William -
War Planes Of The Second World War - Fighters - Vol. 2
, 1961, Hanover House, New York
---
BRITISH AVIATION RESOURCE CENTER
>
FIGHTERS
>
PREVIOUS PAGE
---