---
BRITISH AVIATION RESOURCE CENTER
>
FIGHTERS
>
PREVIOUS PAGE
---
BOULTON PAUL DEFIANT
---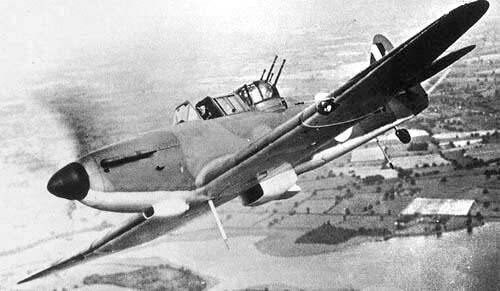 ---
Type: Two-Seat Fighter
Origin: Boulton Paul
Models: Defiant Mark I and II
First Flight (Prototype): August 11, 1937
First Flight (Production Mk. I): July 30, 1939
Service Delivery: December 1939
Number Produced: 1,064


---

POWERPLANT:
Mark I
Model: Rolls-Royce Merlin III
Type: 12 Cylinder liquid cooled V12
Number: One Horsepower: 1,030 hp

Mark II
Model: Rolls-Royce Merlin 20
Type: 12 Cylinder liquid cooled V12
Number: One Horsepower: 1,260 hp


---

DIMENSIONS: Mark I
Wing span: 39 ft. 4 in. (12m)
Length: 35 ft. 4 in. (10.75m)
Height: 12 ft. 2 in. (3.7m)
Wing Surface Area: N/A

WEIGHTS: Mark I
Empty: 6,000 lbs. (2722 kg)
Loaded: 8,350 lbs. (3787 kg)

PERFORMANCE: Mark I
Maximum Speed: 303 mph (488 km/h)
Initial climb: 1,900 ft./min. (579 m/min)
Service Ceiling: 30,500 ft. (9300 m)
Range: N/A

ARMAMENT:
Four .303 Browning machine guns in hydraulically operated dorsal turret.
Ammunition: 600 rounds per gun.

---
COMMENTS:
The Defiant was an innovative concept that unfortunately did not fair well when engaged in it's designed role. Somewhat effective against heavier fighters like the Bf/Me 110 and bombers the Defiant proved vulnerable to lighter single engined fighters like the Bf 109E. Large numbers of this type were shot down over France during the initial stages of WWII.
The aircraft itself was clean and pleasant to fly and adapted well to it's new role as a nightfighter in 1940-41. Others were used as target tugs and in the Air-Sea rescue units in Britain, Middle East and Far East.
---

62nd production Mark I.

Late production Mark I, T4106.
---
IMAGE GALLERY:
Image 1
- Defiant Mk. I of No. 256 Squadron, Oct. 41.
Image 2
- 4-View Illustration.
---
Sources:
Gunston, Bill -
The Encyclodepia of the Worlds Combat aircraft
, 1976, Chartwell Books, Inc., New York
Green, William -
War Planes Of The Second World War - Fighters - Vol. 2
, 1961, Hanover House, New York
---
BRITISH AVIATION RESOURCE CENTER
>
FIGHTERS
>
PREVIOUS PAGE
---