---
BRITISH AVIATION RESOURCE CENTER
>
BOMBERS
>
PREVIOUS PAGE
---
BRISTOL BEAUFORT
---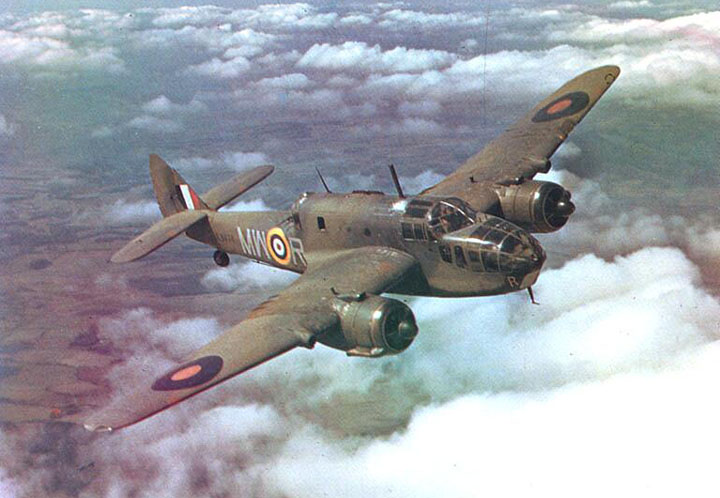 ---
Developed from the Blenheim light bomber, the Beaufort proved to be heavier than it's parent design. This extra weight, in part because of the additional crewman, proved to be too much for the original Bristol Mercury engines. After reviewing several designs, the Bristol Taurus was chosen though there were initial installation problems. These instalation problems, among them a tendancy to overheat, delayed development somewhat. However, two squadrons were operational by August 1940, the 22 and 42 Squadrons of Coastal Command. The Beaufort served the Coastal Command well, laying hundreds of mines and were involved in the attacks on the Scharnhorst and the Gneisenau as well as numerous attacks on smaller shipping.
Plans for producing the type in Australia were begun in 1939. The logistical problems of supplying engines from England led to the Pratt & Whitney Twin Wasp being adapted to the design. One hundred sixty five of British built Beaufort Mk. IIs were equipped with this engine as well but then reverted to the Taurus from 166 on.
Australian versions can be identified by a larger tail fin and several different derivatives were developed including trainer and transport versions.
---
Sources:
Gunston, Bill -
The Encyclodepia of the Worlds Combat aircraft
, 1976, Chartwell Books, Inc., New York
---
BRITISH AVIATION RESOURCE CENTER
>
BOMBERS
>
PREVIOUS PAGE
---