MEMBER SITES

Warbird discussion forums

Warbirds-Online
Warbird News and commentary.

Warbird Registry
The histories of individual warbirds.
---
RESOURCE CENTERS
– U.S.A.A.F
– U.S. NAVY
– LUFTWAFFE
– JAPANESE
– RUSSIAN
– VIETNAM ERA
– ALLIED

---
OTHER SECTIONS
WHATS NEW
ARTICLES
STAFF
REVIEWS
PX STORE
FAQ
CONTACT US
SUPPORT THE SITE
LINKS
MAIN INDEX >
EXPERIMENTAL/PROTOTYPES
---
FAIREY SPEARFISH
---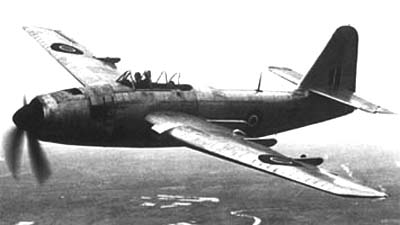 ---
Type: Torpedo bomber
Origin: Fairey Aviation
Models: Prototypes
Crew: N/A
First Flight: July 5, 1945
Service Delivery: None
Production Termination: None
Number Produced: 5


---

POWERPLANT:
Model: Centaurus 57
Manufacturer: Bristol
Type: 18-cylinder radial
Number: One Horsepower: 2,585 hp
Propeller: five-bladed propeller


---

Dimensions:
Wing span: 60 ft 0 in (18.3 m)
Length: 45 ft 0 in (13.7 m)
Height: 16 ft 0 in (4.9 m)
Wing Surface Area: 530 ft² (49.2 m²)

Weights:
Empty: 12,435 lb (5,640 kg)
Loaded: N/A
Max. Loaded: 22,050 lb (10,000 kg)

Performance:
Maximum Speed: 300 mph (480 km/h)
Cruising Speed: 260 mph (415 km/h)
Climb to 5,000 ft (1,524m): 6 min
Service Ceiling: 23,600 ft (7,200 m)
Rate Of Climb: 1,720 ft/min (8.74 m/s) Wing loading: N/A
Range: 895 mi (1,440 km)


---

Armament:
2 × .50 in M2 Browning machine guns in wings.
2 × in a Frazer-Nash FN95 remote-controlled dorsal barbette

Payload:
Rockets: 16× RP-3 rockets on underwing rails
Bombs: carried in an internal weapons bay; either:
– 1 × torpedo or
– 2,000 lb (907 kg) of bombs or mines

---
The Fairey Spearfish was a torpedo bomber designed and built by Fairey Aviation for the Fleet Air Arm. It was one of the largest single-engine aircraft to ever operate from a British aircraft carrier.

Designed by Fairey Aviation in responce to Admiralty specification O.5/43, the Spearfish was intended to replace the Barracuda. Having learned much from the limitations of the Barracuda. The Spearfish housed its ASV anti-submarine radar internally to prevent the stability problems the Barracuda with it's external housing.
Fairey decided to use the new Centaurus engine but problems prevented the first flight until July 5, 1945.

By the time victory was declared over Japan only five aircraft had been built. Budget cutbacks and the proposal for a more advanced aircraft (the Gannet) saw the project shelved and the initial production order of 152 aircraft cancelled.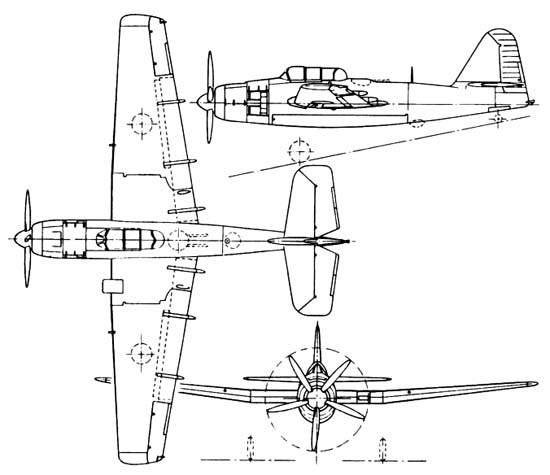 ---
---
BRITISH AVIATION RESOURCE CENTER > EXPERIMENTAL/PROTOTYPES > PREVIOUS PAGE

---