---
BRITISH AVIATION RESOURCE CENTER
>
BOMBERS
>
PREVIOUS PAGE
---
FAIREY ALBACORE
---
L7075, the second prototype of the Fairey Albacore.
---
Type: Torpedo/Dive bomber
Origin: Fairey Aviation
Models: Albacore Mk. I
Crew: 3
First Flight: Dec. 7, 1940
Service Delivery: 1943
Production Termination: 1945
Number Produced: 2,607


---

POWERPLANT:
Model: Taurus II
Manufacturer: Bristol
Type: 14-cylinder radial
Number: One Horsepower: 1,065 hp


---

Dimensions:
Wing span: 50 ft 0 in (15.24 m)
Length: 39 ft 10 in (12.14 m)
Height: 14 ft 2 in (4.62 m) Wing Surface Area: 623 ft² (57.9 m²)

Weights:
Empty: 7,250 lb (3,295 kg)
Loaded: 10,460 lb (4,755 kg)
Max. Loaded: 12,600 lb (5,727 kg)


Performance:
Maximum Speed: 161 mph (259 kph)
Cruising Speed: 140 mph (225 kph)
Stall Speed: 54 mph (87 kph)
Climb to 6,000 ft: 8 min
Service Ceiling: 20,700 ft (6,310 m)
Wing loading: N/A
Range*: 930 mi (1,497 km)
*with 1,670 lb (760 kg) torpedo


---

Armament:
1 × fixed, forward-firing .303 in (7.7 mm) machine gun in starboard wing
1 or 2 × .303 in (7.7 mm) Vickers K machine guns in rear cockpit

Payload:
1 × 1,670 lb (760 kg) torpedo or 2,000 lb (907 kg) bombs

---
The Fairey Albacore was a British single-engine carrier-borne biplane torpedo bomber built by Fairey Aviation between 1939 and 1943 for the Fleet Air Arm and used during the Second World War. It had a three-man crew and was designed for spotting and reconnaissance as well as delivering bombs and torpedoes. The Albacore, popularly known as the "Applecore", was conceived as a replacement for the aging Fairey Swordfish, which had entered service in 1936. However, the Albacore served with the Swordfish and was retired before it, being replaced by the Fairey Barracuda and Grumman Avenger monoplane torpedo bombers.
Design/Development:
The Albacore prototypes were built to meet Specification S.41/36 for a three-seat TSR (torpedo/spotter/reconnaissance) for the FAA to replace the Swordfish. The Albacore had a more powerful engine than the Swordfish and was more aerodynamically refined. It offered the crew an enclosed and heated cockpit. The Albacore also had features such as an automatic liferaft ejection system which triggered in the event of the aircraft ditching. The first of two prototypes flew on 12 December 1938 and production of the first batch of 98 aircraft began in 1939. Early Albacores were fitted with the Bristol Taurus II engine and those built later received the more powerful Taurus XII.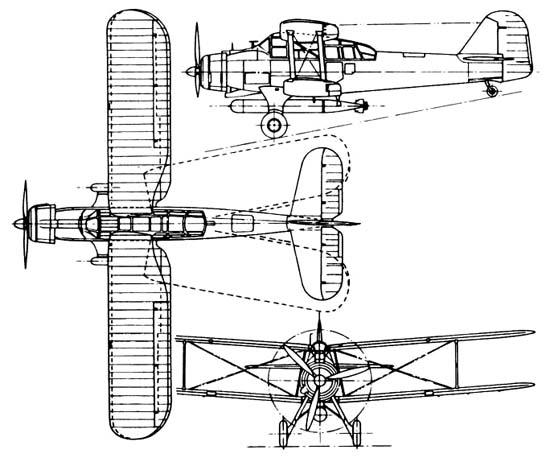 Service History:
No. 826 Naval Air Squadron was specially formed to operate the first Albacores in March 1940, being used for attacks against harbours and shipping in the English Channel, operating from shore bases, and for convoy escort for the rest of 1940. Carrier-based squadrons began operating the Albacore in 1941. Initially, the Albacore suffered from reliability problems with the Taurus engine, although these were later solved, so that the failure rate was no worse than the Pegasus that equipped the Swordfish. It remained less popular than the Swordfish, however, as it was less agile, with the controls being too heavy for a pilot to take effective evasive action after dropping a torpedo.
Eventually, there were 15 first-line FAA squadrons equipped with the Albacore which operated widely in the Mediterranean. Albacores played a prominent role in the ill-fated raid on Kirkenes and Petsamo in July 1941. More successfully they participated in the Battle of Cape Matapan and the fighting at El Alamein as well as supporting the landings at Sicily and Salerno. During the period September 1941 to end of June 1943, No. 828 Sqn. FAA, RAF Hal Far, Malta, operated a squadron of Albacores under some of the most severe blitz conditions imaginable during the siege of Malta, mainly against Italian shipping and shore targets in Sicily.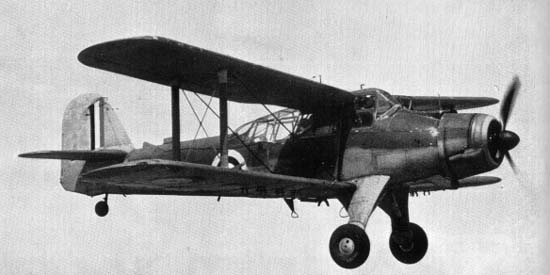 On 9 March 1942 12 Albacores from HMS Victorious were launched to attack the battleship Tirpitz at sea near Narvik. Based on information from 1 of 6 radar equipped aircraft already launched Albacores from 817 and 832 squadrons launched torpedoes and some also attacked with their machine guns. A courageous attack came within 30ft of success at the bow but ultimately the FAA's only torpedo attack on the Tirpitz at sea failed with the loss of 2 aircraft and damage to many of the others.
In 1943, the Albacore was progressively replaced in Fleet Air Arm service by the Barracuda. The last FAA Albacore squadron, No. 841 Sqn. FAA, (which had been used for shore based attacks against shipping in the Channel for the whole of its career with the Albacore), disbanded in late 1943.
The Royal Air Force deployed some Albacores. No. 36 Sqn. acquired them in December 1941 when in Java. The squadron was captured by the Japanese in March 1942. In 1943, No. 415 Sqn. was equipped with Albacores (presumably ex-FAA) before the Flight operating them was transferred and reformed as No. 119 Sqn. at RAF Manston in July 1944. The squadron deployed later to Belgian airfields. Their Albacores were disposed of in early 1945 in favour of ASV-radar equipped Swordfish Mk.IIIs that the squadron kept until the end of the war in May.
The Royal Canadian Air Force took over the Albacores and used them during the Normandy invasion, for a similar role until July 1944.

---
Sources:
Wikipedia
---
BRITISH AVIATION RESOURCE CENTER
>
BOMBERS
>
PREVIOUS PAGE
---